A West End show may last a few hours but it can leave a lasting impression. Songs from popular musicals can spark memories: they make us laugh, they make us cry, and they transport us to another world. Hearing musical theatre songs doesn't have to happen inside a theatre. Enter Candlelight Concerts.
After sold-out concerts in 2022 and spring 2023, Candlelight Concerts return to The Actors' Church as well as St Giles-in-the-Fields and Union Chapel this festive season. The hour-long candlelight concerts pack in dozens of your favourite theatre songs, all played by an award-winning string quartet. Listen to instrumental versions of songs from shows such as The Lion King, Les Misérables, Fiddler on the Roof, West Side Story, and more. Get ready to feel the power of live entertainment.
If you've never been before, or you want to be fully prepared for your next visit, here's what you need to know before visiting a Candlelight Concert.
Experience Candlelight Concerts in London.
Visit iconic London venues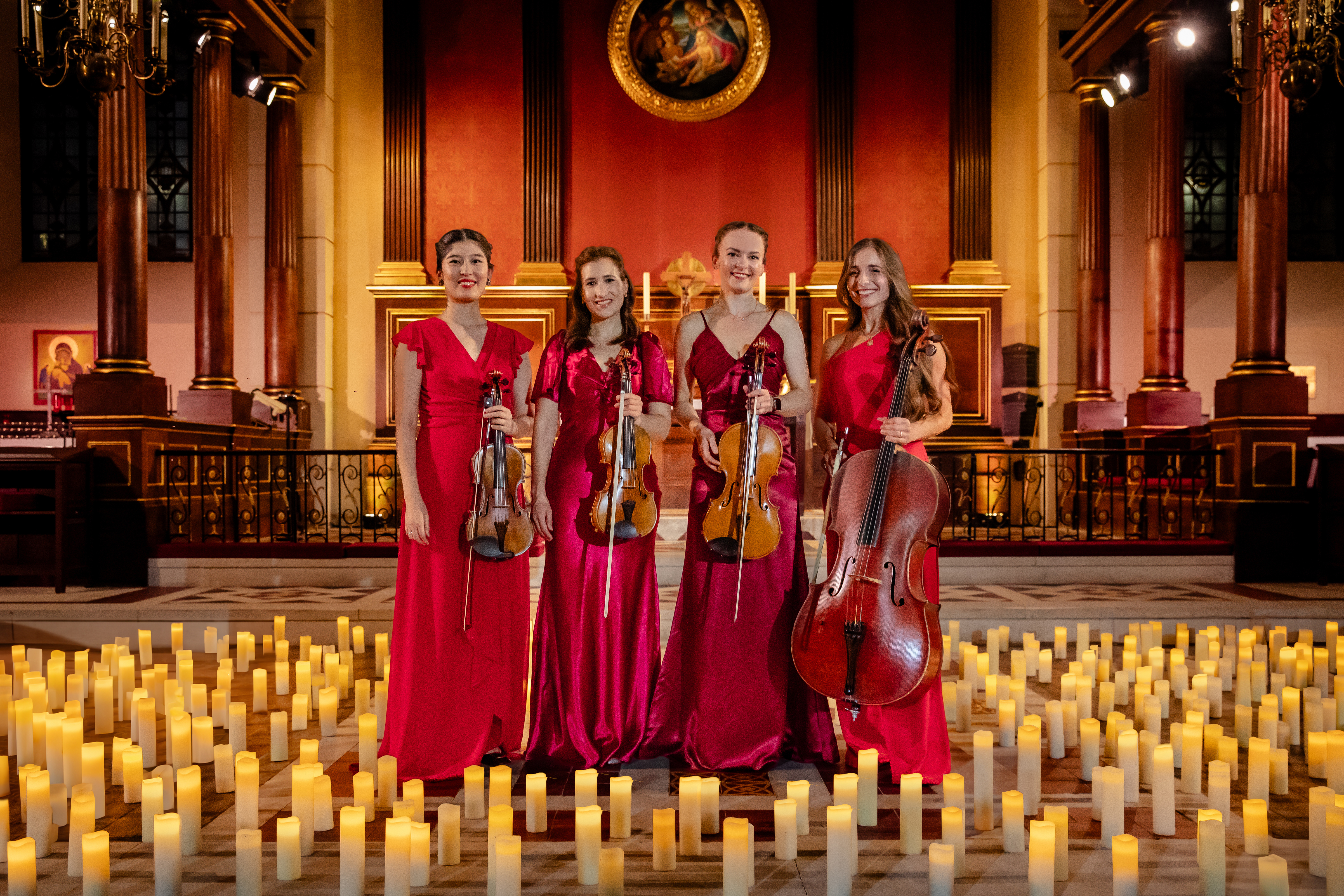 From the moment you walk into The Actors' Church, you'll feel a world away from central London. Clear your head, escape reality for a few moments, and enjoy the calm atmosphere.  Before taking your seat, walk around the church and discover all the honoured musical theatre legends: Charlie Chaplin and Noël Coward to name a few. 
With a limited seating capacity, you won't have to fight through the crowds to get to your seat. There are different seating types in the church: VIP seats, premium seats, standard seats, rear seating, and on-stage seating. Seating is first come, first served in all sections, so you may want to arrive early to guarantee a closer seat.
Be guided by the candlelight and take your seat in The Actors' Church for a musical theatre concert to remember. Forget you're in central London and enter a dreamlike world.
Listen to the greatest musical theatre and Christmas songs of all time
During the 60-minute concerts, you'll hear plenty of theatre and festive songs. From the moment the quartet tunes up, you'll already have chills, and then as they play the opening chords of the first song, just sit back, relax, and say thank you for the music.
Whether you know all the words to the songs or you've never heard the songs before, Candlelight Concerts are for everyone. There's no fancy props or lighting, it's all about stripping back musical theatre to the music. You'll enjoy every minute of musical heaven.
Hear a world-class quartet perform live
See the breathtaking quartet, Icon Strings perform in these Candlelight Concerts. The all-female collective includes award-winning musicians who regularly perform at local and international concerts. Between them, they've played at iconic London venues like the Royal Opera House, the Royal Albert Hall, and teach at the Royal Academy of Music and Eton. Now you can see and hear the premier musicians up close at The Actors' Church, St Giles-in-the-Fields or Union Chapel.
Why you need to visit a Candlelight Concert
If you appreciate musical theatre, or you want to discover more about the West End, you need to experience these Candlelight Concerts in London. Hear all the musical theatre classics and chart-topping songs in a new way and discover the power of live music.
By combining West End songs, world-class musicians, and historic London theatre venues, there's no musical experience quite like these Candlelight Concerts. If you're looking for something unique to do in London, then Candlelight Concerts are a must.