By continuing to browse the site, you are agreeing to our use of cookies.
A Student's Guide To Saving Money In London
15 September 2016 by Emily Moulder
Share
Tweet
Email
Samuel Johnson once said, "…for there is in London all that life can afford." And you'll actually be able to afford it if you make sure you get full use of being a student. If one of the things you're looking forward to doing in London while studying is seeing ALL the theatre, it's going to be a bit hard if you're splashing the cash elsewhere. So to help all the new students moving to London, here's our guide to saving money in the city.
1. In Central London, you can basically walk everywhere.
Walking is definitely the best way to get to know your new city. Tourists in London often get the tube everywhere as it's not always clear on maps just how close everything is. You don't need to get the tube from Covent Garden to Leicester Square – it's just around the corner, plus, if you get the tube all the time, you'll miss out on the sights. And, you know, walking is free.
2. Buy an oyster card right away.
You can use your contactless bank card on London's public transport, but having an oyster card is a great backup. If you're able to, get yourself an 18+ photocard and you'll save a lot of money on travel. Alternatively, you could apply for a 16-25 railcard that comes with all kinds of discounts – this one will last you past your uni years so it's worth thinking about, especially if you want to be able to visit your family back home without breaking the bank on train fees. Remember, you can't pay for a bus trip with cash anymore, so you'll need some kind of card.
3. Don't forget to use your student discounts.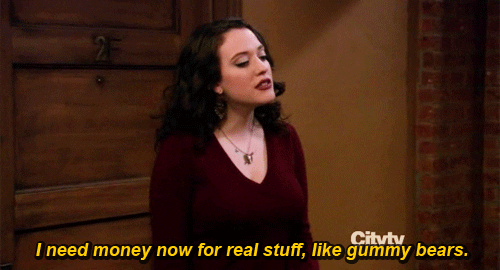 Everywhere you go, ask if they accept student discount cards as you might be surprised where you could get 10% or 20% off. Some theatres in London also have special deals for students and under 25's, so there are bonus points for being young as well. Check out Money Saving Expert for other great deals and vouchers to make the most of your time in London.
4. Don't buy from ticket touts!
We know you know this, but here's a friendly reminder that ticket touts are not approved or supported by any London theatres and are definitely a no no. Seeing a West End show is a big part of experiencing London, and if your tickets turn out to be fakes, you've got no way of getting a refund. There are better things to spend your money on when you're a student than overpriced and illegally sold theatre tickets! Check out our buying guide to make sure you're getting a deal.
 5. Stay stylish with sample sales.
When you're living in one of the most fashionable cities in the world, it's tempting to spend your student loan on Oxford Street. But if you can hold out for sample sales throughout the year, you can get gorgeous garments at a fraction of their retail value. Plus, London's charity shops are great places to find some real hidden gems and vintage pieces, especially in areas like Chelsea, Wimbledon Village and affluent areas of London. Basically, find out where the celebs donate their clothes.
6. Learn to cook with your mates.
If you don't fancy living on beans on toast for your uni years but don't want to spend a tonne of money going out to dinner, learn to cook. University is a great place to practice your skills and there'll be no shortage of hungry students who will love you forever if you cook for them. Grab a few mates, all put in £5, do a big shop and you've got yourself a feast in the making. Jamie Oliver's Food Tube channel is a great way to get inspiration and tips but Hannah Hart's My Drunk Kitchen will probably be truer to your uni experience.
7. There's tonnes of free stuff to do in London.
Whatever you're into, there's probably a free version of it happening in London. There are countless free museums to check out, art galleries with no entry fees and festivals or events throughout the year. And of course, keep an eye out for that magical day when Ben and Jerry's give out free cones.
So as tempting as it is to go crazy when you've got your first taste of freedom, there are plenty of ways to conserve cash as a student and still have a wicked time in London.
Want to know which shows are opening in London this month? Check out our show guides.